2023-01-05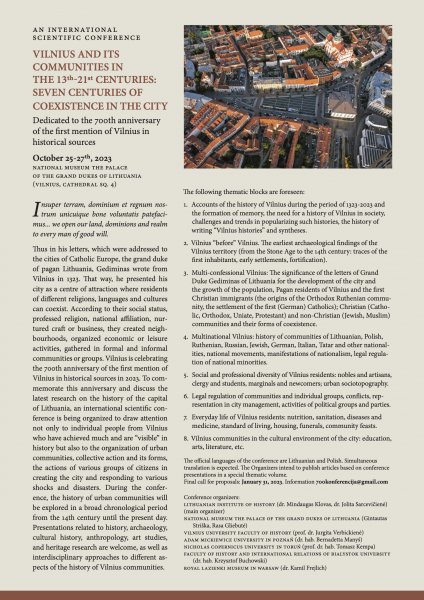 Call for Papers: "VILNIUS AND ITS COMMUNITIES IN THE 13th-21st CENTURIES: SEVEN CENTURIES OF COEXISTENCE IN THE CITY"
October 25-27th, 2023 / National Museum the Palace of the Grand Dukes of Lithuania (Vilnius, Cathedral sq. 4)
The following thematic blocks are foreseen:
1. Accounts of the history of Vilnius during the period of 1323-2023 and the formation of memory, the need for a history of Vilnius in society, challenges and trends in popularizing such histories, the history of writing "Vilnius histories" and syntheses.
2. Vilnius "before" Vilnius. The earliest archaeological findings of the Vilnius territory (from the Stone Age to the 14th century: traces of the first inhabitants, early settlements, fortification).
3. Multi-confessional Vilnius: The significance of the letters of Grand Duke Gediminas of Lithuania for the development of the city and
the growth of the population, Pagan residents of Vilnius and the first Christian immigrants (the origins of the Orthodox Ruthenian commu- nity, the settlement of the first (German) Catholics); Christian (Catholic, Orthodox, Uniate, Protestant) and non-Christian (Jewish, Muslim) communities and their forms of coexistence.
4. Multinational Vilnius: history of communities of Lithuanian, Polish, Ruthenian, Russian, Jewish, German, Italian, Tatar and other national- ities, national movements, manifestations of nationalism, legal regula- tion of national minorities.
5. Social and professional diversity of Vilnius residents: nobles and artisans, clergy and students, marginals and newcomers; urban sociotopography.
6. Legal regulation of communities and individual groups, conflicts, rep- resentation in city management, activities of political groups and parties.
7. Everyday life of Vilnius residents: nutrition, sanitation, diseases and medicine, standard of living, housing, funerals, community feasts.
8. Vilnius communities in the cultural environment of the city: education, arts, literature, etc.
Final call for proposals: January 31, 2023. Information 700konferencija@gmail.com